TORLAC SHIPYARD - TUZLA, TURKEY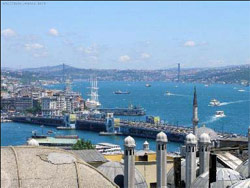 In 1900's, Torlak family's grandfathers had interested in building new wooden vessels in the Black Sea shores. Torlak family had founded their first company in 1970 and they continued its activities at Golden Horn/Istanbul until 1983. In 1983, Torlak Shipyard moved to Tuzla Bay / Istanbul, realising additional investments and technological developments.
Torlak Shipyard (with the total capacity of 3 million dwt maintenance and repair work per year) become particularly preferable in world markets in repair, ship conversions and docking with its convenient pricing policies and technologic proficiency. The shipyard's motto could be defined as "The best quality at reasonable price near the Europe". In the last decade, importance of working with good repair practices and high quality standards have considerably increased and shipyard could proudly repair the commercial and naval ships at the same quality with the most developed countries of the world.
From modest beginnings in 1980s, Torlak Ship Repair has grown to become a major force in the Government and commercial ship repair, modernization, conversion and overhaul industry. Since the arrival of the dry dock in 2004, Torlak Ship Repair has used its expertise to dry dock and repairs the world's ships. With Torlak Ship Repair's "Time is Money" philosophy, the company makes the most of the time our customers spend at our shipyard by delivering the best value for their money. The time a ship is "out of service" for repair and maintenance is minimized, and the quality and reliability of our work is maximized.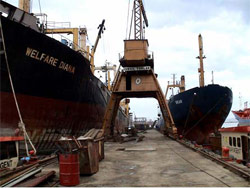 At Torlak Ship Repair the customers benefit from knowledge and expertise shared by our colleagues and close industry relations. We have the capabilities of performing almost any size and complexity of a commercial project, from routine repairs to major overhauls and modernization.
In 2004, the company underwent a major expansion and modernization, highlighted by the addition of The TUNC USTA, a 196 m. Floating dry dock, complete with attendant pier and services. TORLAK TORLAK SHIPYARD DOCKING UPTO 42.000 DWT ISO 9001:2000 Certificate No: 38841
Nowadays, Torlak Shipyard is one of biggest ship repair / conversion enterprise in Türkiye. There are more than 700 employees in the yard with its subcontractors' workers. Its land covers 19,640 m2 and building area covers 3,070 m2. Its berth is 140 meters long. Shipyard has one of the biggest floating docks (18,000 TLC) in the region. Repair capacity is around 75 vessels per year and most of the clients are foreign shipping/management companies.
Torlak Ship Repair is committed to customer satisfaction by providing high-quality work in compliance with the customer specifications and expectations. This is accomplished through an effective Quality Management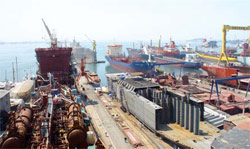 System based on the requirements of the International Standards Organization. Torlak Ship Repair underwent two years of extensive internal and external assessments, meeting all quality system standards, ranging from management responsibility to procedural and technical elements. Torlak Shipyard has been assessed by ABS Quality Evaluations, Inc. and found to be in conformance with the requirements set forth by ISO 9001:2000.
It is so with great pleasure that we receive an encouraging and rewarding feedback of our satisfied clients, which is, no doubt, the best possible recognition and recompense that we could receive after a job well done. The reasons for choosing us:
One of the best repair shipyard with its floating dock (up to 42.000 DWT) in the area
Have one of the two repair design offices among all Turkish Shipyards;
Scrupulous accomplishment of timely delivery;
Cost effective and reasonable prices in all additional works;
Great quality of execution;
Speed and efficiency;
Modern management structure,
Highly specialised teams and efficient outsourcing who are the best qualified in the area and only work for our shipyard;
Many years of experience in ship maintenance and repair.
Our Services provided during docking and repair period are as follows:
Slop/sludge removal, tank cleaning;
High pressure water jetting;
Grit blasting up to SA2½;
Tank coating with dehumidifiers, vacuum removers;
Tail shaft withdrawal, surface crack examination;
Propeller repairs and polishing;
Efficient steel renewal capacity;
Availability of certified material at stocks;
Specialists for all kind of mechanical and electrical works;
Boiler repairs;
Engine, turbocharger, governor, piston reconditioning and white metalling;
Torlak Shipyard also makes investments in below issues to further develop their capabilities;
A new shipyard investment near Istanbul,
Joint-ventures with local/foreign companies,
Innovations, restructuring and shipyard layouts,
New workshops and technologies (CAD, machineries etc.),
New slipways, docks, heavy cranes, paint shops,
Workmanship quality and human resources.
Torlak Shipyard gives their customers the best service around the clock with the highest standard of workmanship.
FLOATING DOCK
196m x 32.40m
42,000 DWT
7.0 meter draft