LISNAVE - SETUBAL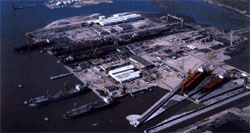 With a pedigree going back to 1937. it follows that Lisnave hasa lot of experience to draw on. The original North Yard of Rocha and the South Yard of Margueira have been consigned tohistory, the latter closing at the end of 2000.
All activities of the Group arc now concentrated at the Mitrena yard at Setubal, located just 12 km from the town of Setubal on the Sado river and about SC) km south of Lisbon.
Some 63 years of activity in the ship repair, and latterly also offshore and conversion work, has left Lisnave with animpressive legacy of experience on which to move forward into the 21st Century.
Situated as it is at the south western tip of mainland Europe. the Mitrena yard is well placed to attract work from both the Atlantic and Mediterranean areas and is at the crossroads of
many international sailing routes.
A major advantage of the yard's location is the year round good weather which makes outside hull work, particularly coating, able to proceed without delays. Temperatures in winter months of around 14-22 degrees celcius and in the summer of around 23-28 degrees celcius with optimum humidity levels, ensure outside work runs smoothlyand without delays.
The 'coming together' of the best aspects of the Margueira and Mitrena yards, and the use of the combined pools of equipment has meant that the Mitrena yard now rates amongst the best in Europe as regards facilities, equipment and expertise. The refurbishment program has ensured a revitalized yard with exceptional facilities.

An investment program involving about $80 million has been completed involving a total upgrade of existing facilities, including $45 million having been spent on the stew Hydrolift complex of 3 Panamax-size drydocks.
The existing drydocks and many of the piers have had extensive structural repairs, and virtually all pump systems and pipelines have been replaced around the yard. Electrical switchboards and fire-fighting systems have also been renewed and a new workshop for propeller repairs has been built, alongside the enhanced machine shop.
A new tank cleaning station is situated just 1km from theshipyard.
The dimensions and capacities of the six drydocks and the piers allow Mitrena to handle virtually any vessel type, including offshore structures. Short or long durations of stay for repairs can be catered for, and the facilities are also ideal for conversion work.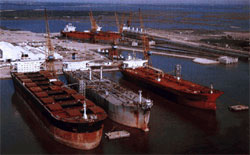 Throughout its history Lisnave has been renowned for offering repairs to high standards and to an agreed time schedule. Mitrena's first class facilities allow this to continue and owners can be assured of quality work because of the expertise that the workforce has, and the accreditation to ISO 9001 standards. In addition Lisnave is aware of their responsibility to protect theenvironment, and the planning of all work undertaken has this aspect firmly in mind, with strict adherence to the necessary codes of conduct required by the various regulatory authorities.
Graving Docks
No. 20: 420m x 75, 700,000 tons, 4.9m draft
No. 21: 450m x 75, 700,000 tons, 6.4m draft
No. 22: 350m x 75, 300,000 tons, 6.4m draft

Hydrolifts
No. 31: 280m x 39, 80,000 tons, 4.6m draft
No. 32: 280m x 39, 80,000 tons, 4.6m draft
No. 33: 280m x 39, 80,000 tons, 4.6m draft
All above drafts at chart datum, tide range .75m
Jetty

1,500m, 5.48-6.71m draft