Dakarnave - Dakar, Senegal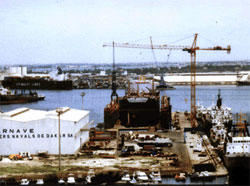 Chantiers Navels de Dakar, S.A., (Dakarnave) is a member of the Lisnave group of companies. The yard is situated in the west coast of africa in Dakar. Senegal, ideally located to cater for the conversion and repair needs owners trading in the area.
the benefits of moderate climate, together with an infrastructure offering good communications and hotel facilities make this deal in particular for vessels traveling north/south along Africa's west coast, about four hours flying time from Europe.
Dakar yard was considered years ago as a reputable facility to deal with most of the units traveling in the area. Lisnave Group got a leasing contract to operate the yard for a period of 25 years and have the facility porperly equiped with the neccessary tools to deal with the market. They put forth a $15 million plant to upgrade the installation. Today this investment program is virtually complete.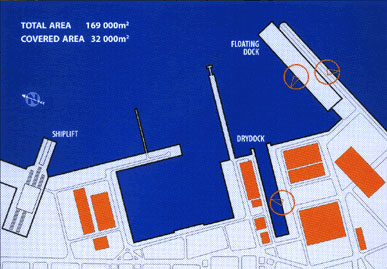 This overall development also allowed an increase in thecapacity and types of work undertaken and in the ship types handled Now tankers and oilier ship types regularly call at the yard, together with the traditional business in fishing boats that the yard has had for some years.
Dakarnave management have their roots in the Lisnave school, consequently all of them are provided with the traditional Lisnave philosophy and mentality for their daily business.
Ships up to 60.000 DWT size and 235m long, o.a. can be handled in the floating dock, and the drydock has a capacity to take vessels up to 25,000 DWt. This dock can also be divided by gates to give two docks, of 122.7m and 69m length respectively. The syncrolift has a lifting capacity of 1.200 t and can place vessels in four Working stations. In addition there are quays where vessels can be repaired while alongside.
The total area of the yard is 169,000m-2 of which 32,000m2 is covered. The yard offers all the facilities of a modern repair yard with adequate machinery and services such as air, gas, water and electricity supply, to cater for any requirement.


Floating Docks
Floating Docks: 235m x 38m, 28,000 tons, 9.5m draft
Graving Docks

195.2m x 26.5m, 25,000 tons, 9.5m draft

Jetty

1,000m, 15m draft